I've pretty much abandoned the recipe blog these days, so this can go here.
Preheat the oven to about 160c
Grease three loaf tins or theoretically a bundt tin if you've got one.
Make the things:
In a small jug, mix: A fresh cup of coffee, 1 teaspoon baking soda
In a medium bowl, mix: 2.5 cups gluten-free flour, 2tsp baking powder if your GF flour isn't self-raising, 1 tsp cinnamon, 1/4 of each of ginger and nutmeg. The latter will mostly get drowned by the honey, so more if you like nutmeg.
In a large bowl (or your mixer's bowl if you've got one) add: A couple of eggs, a cup and a half of sugar (I use 2:1 ratio of white to brown sugar), 3/4 cup of oil (Fancy tasty oil if you like, or just sunflower oil or something), a cup of honey (and some more for luck), half a lemon of juice. Beat this up until it's smooth.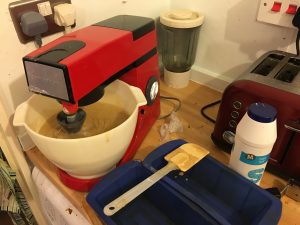 This bit's easier if you've got a mixer: add some of the coffee mix to the liquid mix, beat it until integrated, then add some of the flour mix, and alternate each until you run out and it's all one colour. Slowly does it, this doesn't need airing. It'll come out as an unattractive sloppy liquid.
Pour into the tin/s, put into the oven for an hour or so, then test every ten minutes until a sharp knife or skewer comes out of the middle clean.
After cooling, dust with some icing sugar to make it look pretty, because the extra sugar's not going to matter at this stage. If you feel the need to frost or sandwich-cake it, you'll want a slightly less sweet frosting mix. More carrot-cake style than victoria sponge.
How this works depends a lot on the honey, I find a less sweet honey works really well (it's got enough sugar that it's still going to hit the sweetness either way), but it's quite easy to tilt it towards a more honey-gingerbread which works really well too. It's not a pedantic recipe, and you can fiddle with the core concepts a lot before you'll get something that doesn't work as a cake. My electric fan oven reliably does three loaf tins in an hour, but previous ovens have taken nearly two with juggling of positioning of each loaf tin. Milage will vary.